Giclee (pronounced Gee'clay)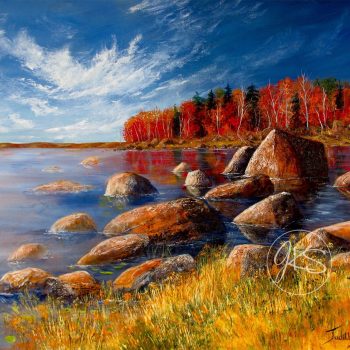 In the fine art world, reproductions on canvas are usually referred to as giclees on canvas or giclees on fine art paper. These giclee reproductions have to meet strict expectations regarding precision, colour matching and longevity. The use of top-quality archival materials in this case means OBA-free, ph-neutral canvas and paper made in North America and Europe. (Chinese materials just don't provide the quality level required.) It also means OEM inks, not compatible inks, solvent, UV or latex inks. And there is more in the mix: thick and sturdy stretchers made from domestic wood and stable water-based acrylic coating applied with high precision coating equipment, not paint rollers or spray. All of this used to mean high prices and long delays, but not anymore. We are now able to deliver stunning giclees at a very affordable price.
Treat yourself to a giclee canvas or paper print by Canadian artist Judith Saunders. You'll be glad you did.