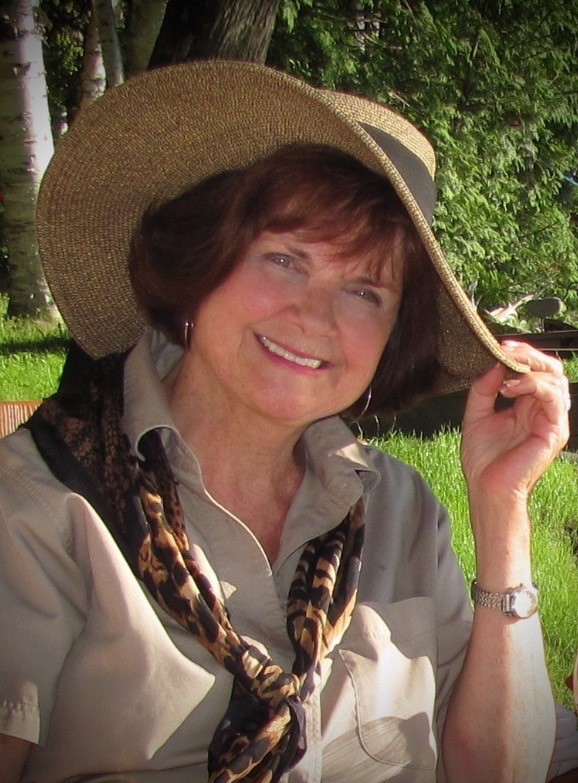 About Me
Judith believes in the old adage "Paint What You Know". She has had a love affair with trees for as long as she can remember. "Trees are sacred to me and connect us with the spirit of the earth and the spirit of life." Her father was her inspiration as he was a forester and showed great respect for nature and all living things.
Judith was born in New Brunswick and her lifelong ambition was to be a professional artist. Her goal was achieved at the age of 34 when she decided to leave a nursing career where she was an instructor and head nurse in the emergency and operating rooms and traded it all for a painting career.
Chuck and Jacquie Meagher, Victoria BC.
Jacquie and I are so happy to have had the opportunity to acquire some of Judy's paintings. We have one collection hung in our bedroom so it is the first thing we see when we awaken in the morning. Every day takes us to the wonderful locations depicted in her paintings.
Joanne and Brock Emberton, Victoria, BC.
An accomplished and prolific painter, Judy's light-filled works evoke the beauty, the majesty and the sacredness of rural, treed places in New Brunswick.  
Darlene Coghlan, Woodstock, NB.
Judy was raised with a very loving family in a small community just a few miles from the longest covered bridge in the world in Hartland N.B.. She had her Dad to thank for her love of the woods, fields and streams as he took her on many fishing trips.  From these experiences and Judy being so interested in painting, she combined her love of nature and wonderful talent to bring art to life in her master pieces that we enjoy in our homes.
George and Eleanor Leonard, Woodstock, NB.
My wife and I have known Judy Saunders for over forty-five years, and in those years she has studied and improved her art work so much so that she is one of the best and most successful artists in our province and in Western Canada. We have several of her art works in our home of which we are very happy.
Joe Bourque, collector of quality vintage wines and art works worldwide. Victoria, BC.
I have known Judy Saunders for over 20 years and have purchased a number of her paintings in that time. Her art work is outstanding and her talents to capture the reality in both landscapes and seascapes makes her paintings very valuable and collectible. Her work is on display in a number of prime locations on Vancouver Island and elsewhere in Canada. I am very pleased and proud to be an owner of her works.
Jane and Don Doucette, Halifax, NS.
Judy's artwork has a way of capturing your attention. It magically draws you with a desire to take time to linger and drink in the beauty just a bit longer. The diversity Judy's displays in her creations makes each piece unique, from beautiful florals, a walk with nature, to a calm seat by the ocean. The pieces I've collected over the years are treasures and truly my favourites that bring me joy everyday.
Bob and Valerie Pegg, Victoria, BC.
Judy is a fantastic artist and a wonderful person. We feel blest to call her our friend.  We used to do very well selling Judy's work in our Gallery and felt very proud to do so.
Dr. V. Lewis, MD, Halifax, NS
I have had the privilege of enjoying Judy's art for most of my life. I have so enjoyed her nature scenes and the calm that she brings to her art. Her passion and love for nature is evident in her work. I am proud to have two commissioned pieces that warm my home and are family heirlooms.
Sharon Sharpe, Woodstock, NB.
Having purchased, over the past 25 plus years, several pieces of Judy's art- including two commissioned – I have always appreciated the genuineness & warmth so easily & amply evident in her creations. I continue to value & enjoy them daily.
Lois Thompson, Woodstock, NB.
Judith Saunders has a deep sensitivity to the beauty of nature. Her art takes the viewer on a delightful journey. Whether it be the expansiveness of the countryside, the glistening of light on a lake's surface or the simplicity of a flower, Judith manages to create a magical experience for the art lover. She especially excels in her portrayal of woodlands and forests, inviting the viewer into a realm of peace and solitude.
Judy Saunders
109 Hoyt Lane
Fosterville , NB E6H 1J4
1-506-380-1942