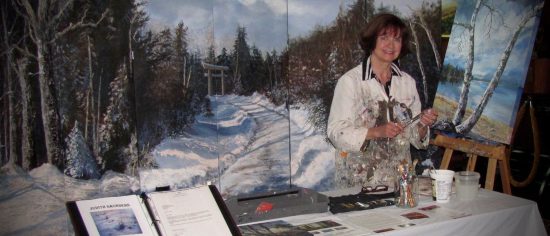 Judith's father was her inspiration as he was a forester and showed great respect for nature and all living things.
Judith was born in New Brunswick and her lifelong ambition was to be a professional artist. Her goal was achieved at the age of 34 when she decided to leave a nursing career where she was an instructor and head nurse in the emergency and operating rooms and traded it all for a painting career.
Leaving a successful art career in Atlantic Canada she moved with her family to Victoria, BC in 1988 and decided to attend the University of Victoria to obtain her Fine Arts Degree. She graduated with Honours in 1993. Since launching her art career in 1979 Judith has had 45 solo exhibitions and 85 group shows to her credit and continues to paint full time.
Judith and her husband return every summer to their cottage at Grand Lake in New Brunswick where she paints and exhibits. One of the highlights of giving back is an event she hosted for forty artists and artisans called "Artists at North Lake". She has taught art and given demonstrations on cruise ships, the Queen of the North ferry and various schools and art groups. Judith is also on the board of directors of The Woodie Wheaton Land Trust and a member of the Chiputneticook Lakes International Conservatory.
Painting mainly in acrylics and watercolours her art captures the essence of light and shadow as it transforms old growth forests and hazy shorelines. She is presently creating a series of paintings depicting the Chiputneticook Lakes area. Judith hopes her paintings help to remind us that the natural beauty of our wild places must be protected for future generations. It is not what an artist says about her work but what it says to others.
She is a member of the Art Gallery of Greater Victoria, Federation of Canadian Artists, Community Arts Council of Greater Victoria, Saanich Peninsula Arts Council, Artists at North Lake and a group of women artists called "What's In A Decade". Her paintings are featured in many galleries and are included in private collections in Canada, United States, Australia, Bahamas, Bermuda and England.
"We are part of nature, like the trees, we are dependent on the earth"